Your organization is invited to be a member of a large, diverse, and influential regional coalition. Not just because it can be fun and joyful (that's important too!), but because we're making a difference. Our members are collaborating in big and small ways for resilient lands that are integral to a thriving Bay Area and all people who live here. Like securing hundreds of millions of dollars for the State Coastal Conservancy which in turn can support the on-the-ground work of our members. Our members are connected to one another through working groups, committees, projects, and events. This means they know who to call when a problem arises, and who to contact for guidance and ideas. 
Together we are more resilient to whatever changes come our way. Regardless if the change is a global pandemic, catastrophic wildfires, the state's 30×30 goal, or $400 million in new funding, TOGETHER Bay Area is ready to learn, coordinate, and act. 
Transparency is one of our values, and so we want to be clear with you about what TOGETHER Bay Area is, the impact we're having, what we're doing, and how we work. Take some time to explore and learn about: 
Join or renew your TOGETHER Bay Area membership, and be a part of a hopeful, collaborative, and impactful coalition. 
Our Impact
Our members' success is our success. That's because our members are creating a more resilient, healthier, and more equitable region. Some examples of how we've made an impact over the past year include: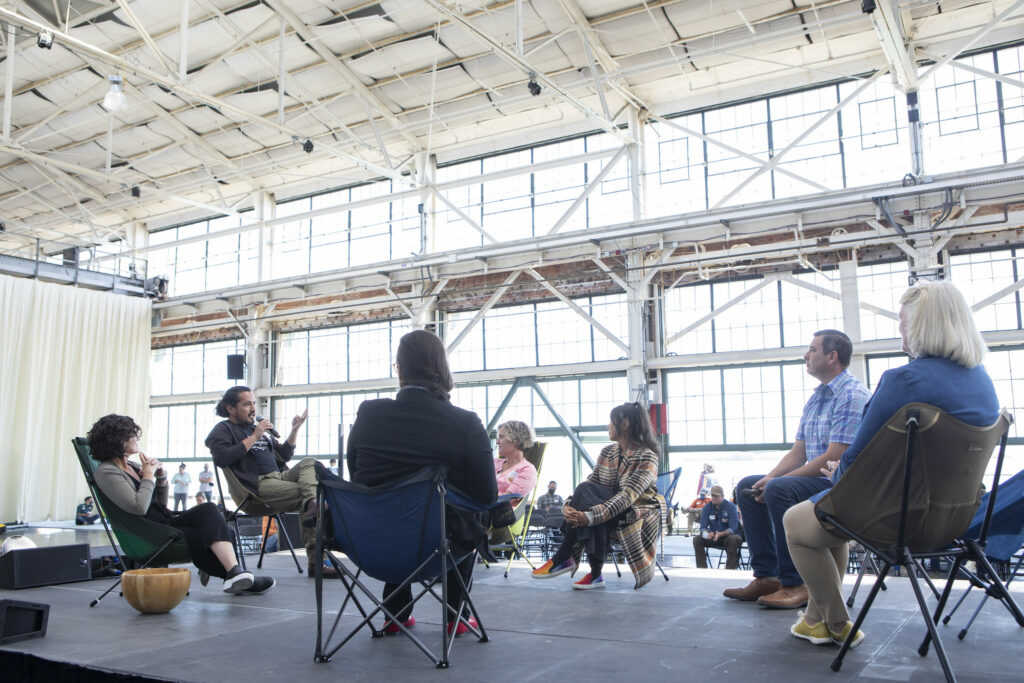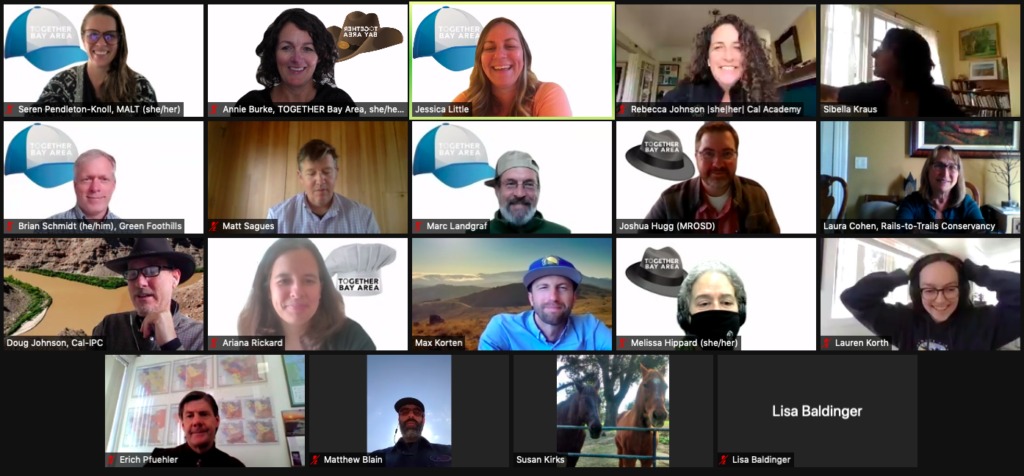 Our work for Justice, Equity & Belonging
Acknowledging that there is always more to do to embody and model an equitable and inclusive organization, we work to center justice, equity, and belonging in everything that we do. Our Framework for Justice, Equity, and Belonging guides how the Board, staff, and members of TOGETHER Bay Area participate in the organization's programs such that we center equity, work for justice, and ensure that everyone belongs. A few examples include:
The formation of the Right Relations pilot program in partnership with Redbud Resource Group. The program is in direct response to what we heard from many of our members – both Native and non-Native – about the needs and opportunities to build alliances and capacity. 
An ongoing, open invitation to anyone who works for a TOGETHER Bay Area member to attend, learn from, and participate in the policy committee. You don't need to be a policy person! This makes typically "insider" information more accessible, and allows for more and different people to help shape the coalition's work.
Representation matters. Over half of our event speakers in the past year – both online and at the Spring Retreat – identify as Black, Indigenous, and People of Color and 75% identify as women. In addition, 80% of the members of our Board of Directors identify as women and 40% identify as BIPOC.
"The TOGETHER Bay Area gathering was such a huge boost to my morale."
"The Spring Conference is one of my favorite days of the year. I love being with my colleagues, in this fantastic setting at the Craneway right on the Bay. Always a great mix of information and inspiration."
"I felt like I was participating in an open space planning master class during yesterday's field trip and tour. Everyone I spoke with had insightful comments and input and the conversations were inspiring."
What's ahead
Building on the strong foundation built by many people – team members past and present, our board, our finance committee, our policy committee, and our all members – we continue to deliver value to our members. Some examples of what our members will benefit from and participate in over the coming year include:
How to Get Public Funding speaker series. This online series for our members will welcome guest speakers from key funding agencies like the State Coastal Conservancy, and professionals to talk about funding opportunities, strategies and relationship building, and keys to success. There will be time for Q&A.
iNaturalist + Conservation Lands Network bioblitz. We'll be co-hosting a regional bioblitz event to observe key species to biodiversity conservation. Everyone is invited.
Members-only field trips! Co-hosted by member organizations, these field trips are opportunities to learn first-hand about the behind the scenes work at special places around the region. Plus lunch is served!
Right Relations pilot program. Build alliances with local Native American governments and organizations by learning, building community, and taking action. 
Conference in May 2023. We'll gather again at the Craneway Pavilion in early May 2023 to work together on a resilient Bay Area. Member-hosted field trips were the highlight of the 2022 conference, and your organization could up the game next year.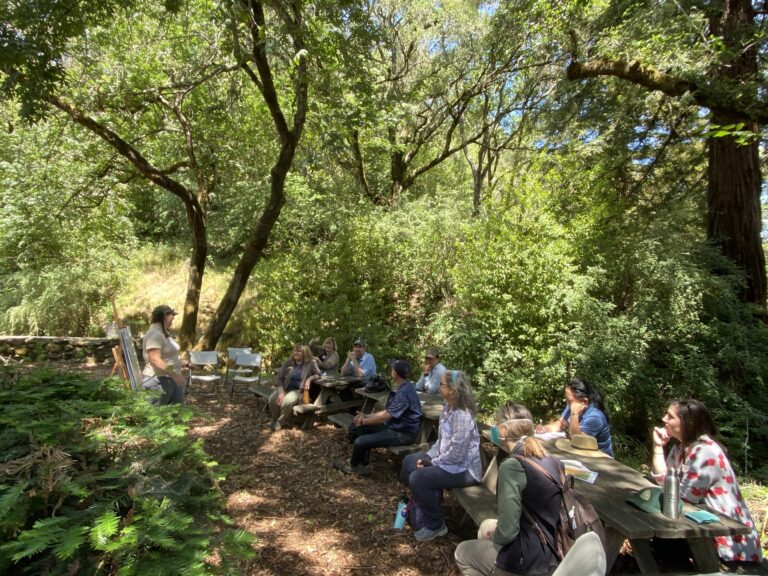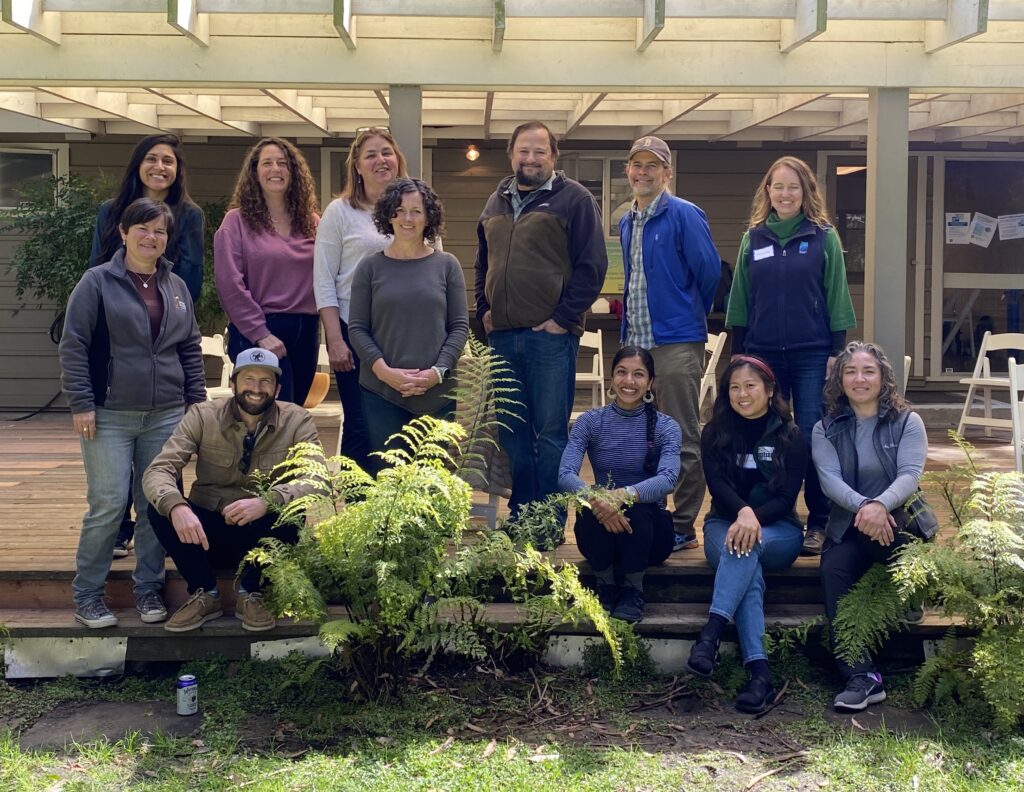 Stewarding a healthy organization
We are serious about our responsibility to steward your membership dues, as well as your trust. The Board of Directors and Finance Committee are monitoring our financial health on a regular basis. We have established key performance indicators and a financial dashboard so we can make adjustments and decisions in a timely manner. And we have policies and procedures in place to safeguard the organization's resources. For example:
A team of 20 people (Board, Finance Committee, staff, and contractors) coordinate closely throughout the year across governance, finance, operations, and programs to ensure the organization is stable and viable.

Continue to work to center equity and inclusion on our Board of Directors, through our two programs (advocacy and convening), and within our operations.

We are on the track set by our business plan from 2019, which we monitor closely with a financial dashboard.
What your dues mean
Your dues mean that TOGETHER Bay Area exists. Without our members' dues, we do not have the funding or mandate to lead our programs and coordinate this diverse and powerful coalition.
This is a membership-powered coalition. In October 2019 the Board approved a strategic and streamlined business plan that calls for membership dues to be the organization's primary revenue source. This carefully considered business plan aligns our programs with our funding, and it enables our operations to be minimal for optimal impact. 
Tiered membership dues mean we can more effectively center equity in our work. We tier member dues based on operational budgets because the work we are doing demands the perspectives of members of all sizes. Our members contribute tangible, on the ground knowledge of how best to address inequities in their communities, and what access to nature and climate resilience looks like locally. For example, we amplify the voices of all of our members through our advocacy program which results in impacts for all members. Without increased support from our larger members, this would not be possible.
Member Benefits
Access to members-only events, field trips, and information

Benefit from the outcomes of our advocacy successes

Your local work is leveraged at the regional and state levels for funding, policies, and other support for your work.

Invitations to connect with and learn from other members through a variety of forums and events

Invitation to participate in shaping our policy priorities and on our Policy Committee

Eligibility for representation on the organization's Board of Directors, working groups, and committees

Listed on TOGETHER Bay Area's website and other communications
Member Expectations
Pay

annual dues

A willingness to participate in ways outlined in our

Framework for Justice, Equity, and Belonging

.

Respect for TOGETHER Bay Area's staff, contractors, and other members. This includes respect for others' time, perspectives, and expertise.

Commitment to the 'give and take' of collaboration, honoring the different roles every organization can play in advancing TOGETHER Bay Area's mission.

Awareness and acknowledgement of the different hats that members wear: personal, organizational, regional coalition, and others as appropriate

As appropriate, co-host meetings or field trips with TOGETHER Bay Area and/or

your organization's staff time to contribute to the organization's governance, operations, and/or programs.
Does your organization want to join but the dues levels are a challenge? We have a Flexible Dues Program that might be the answer. Please email Laura Rosenthal at [email protected] to discuss options and opportunities.
How membership works
Memberships are renewed annually (ideally between September 1 – November 30) and dues are based on your organization's operating budget. See our current dues levels HERE. 
We offer two kinds of membership: 
Members are nonprofits, local Native American governments and organizations, and public agencies working locally in the 10 counties of the San Francisco Bay Area (the usual 9 counties plus Santa Cruz).

State / Federal Agency Partners are

state and federal agencies who manage and steward land in the Bay Area, and for whom it is challenging to participate in TOGETHER Bay Area's advocacy program.