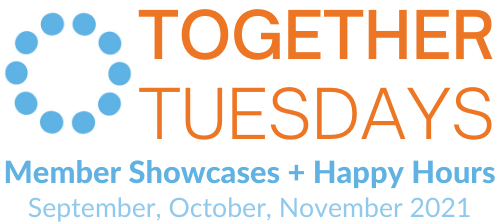 You and all of your colleagues are invited to Together Tuesdays! This monthly online event series featured TOGETHER Bay Area member showcases followed by happy hours. Learn about what's happening around the region to help biodiversity thrive, practice equity, and center Indigenous leadership. Connect with peers to learn, share, and have some fun. There were lightning round presentations, a virtual dance party, some fun GeoGuessr games, Bay Area trivia game, and mingling! This fall event series was held online and it was FREE!

INDIGENOUS LEADERSHIP, November 9 from 4:00-5:30pm
Learn about what TOGETHER Bay Area members are doing to center and support the original stewards of this place we call the Bay Area. Members are working to reconnect Indigenous people to their lands, return fire to the landscape, and build the capacity of Native Californian Tribes and groups. Join colleagues about how you're working to heal injustices and make right past wrongs, and discuss ways to support each other on this critical work.
Our speakers were:
Building Indigenous Relationships, 

Muwekma Ohlone Tribe and Peninsula Open Space Trust 
Native Plant Propagation as Indigenous Cultural Revitalization, Amah Mutsun Land Trust
Patwino Worrtla Kodoi Dihi – Renaming a place in collaboration with the local Tribe, Solano Land Trust
Fire and Forest Restoration at San Vicente Redwoods, Save the Redwoods League

PRACTICING EQUITY, October 5 from 4:00-5:30pm
Learn about what TOGETHER Bay Area members are doing to create a more just and equitable region including anti-racism initiatives; building power in marginalized communities; creating welcoming spaces for Black, Indigenous, People of Color; and more. Connect with colleagues about what you're wondering, learning, and doing to transform how we live together with respect and love.
Our speakers were:
Rising Leaders Fellowship,

Justice Outside 

Equity Initiatives at POST, 

Peninsula Open Space Trust
Practicing equity, Brown Girl Surf

Buchanan Street Mall AKA Buchanan Change, 

The Trust for Public Land

Thurgood Marshall Regional Park – Home of the Port Chicago 50, 

East Bay Regional Park District

Racial Equity Playbook,

Marin Agricultural Land Trust 

Parks, Power, and Civic Investment, 

San Francisco Recreation and Park 

DIVERSITY-BIO-DIVERSITY, September 7 from 4:00-5:30pm
Learn about what TOGETHER Bay Area members are doing to restore essential habitats, create wildlife corridors, and implement other ways to ensure that the region's flora and fauna thrive. Engage in conversations with colleagues about how we can collaborate and coordinate for biodiversity.
Our speakers were:
Bay Area Coordinated Stewardship,

California Invasive Plant Council

Community-Based Habitat Restoration,

Grassroots Ecology

Thriving California, a new initiative,

California Academy of Sciences

We Are All Connected – Wildlife Corridors & Crossings, 

Paula Lane Action Network

Urban River Otters:  Connecting Communities to Conservation,

River Otter Ecology Project

TOGETHER Bay Area members are essential to a healthy Bay Area. They are nonprofits, public agencies, Indigenous Tribes and groups working on the ground in the 9 counties of the Bay Area plus Santa Cruz county. They are mitigating and adapting to climate change and are serving communities during the COVID pandemic. And they are taking bold steps to center equity. This fall, Together Tuesdays will highlight what our members are doing, and provide ways for you to connect afterwards.
The Bay Area hosts a diverse and growing community of people – just like you – who are working for healthy lands, people, and communities. You're leading projects, raising money and writing blogs, designing and delivering programs, securing permits and forming partnerships, advocating for policies, and so much more. And whether you're just starting your career or are a seasoned expert, these times call on all of us to learn new skills and build new relationships. 
Together Tuesdays is for anyone and everyone!