Convene, Connect, and Catalyze Action
Our coalition of nonprofits, public agencies, and Indigenous Tribes stands together during this extraordinary time. TOGETHER Bay Area was built to connect, convene, and catalyze action so that we can meet these challenges with the energy and innovation for which our region is known.

Advocacy for Transformational Funding and Policies
The goal of the Advocacy Program is to work towards climate resilience for communities and lands, including urban, rural, public, and working lands, and to prioritize social equity in policies and funding mechanisms at the regional, state, and to some extent federal levels.
Learn more:

Convening a Powerful Coalition
The goal of our Convening Program is to build the relationships that support the environmental and social changes required for resilient lands and people. We also want to increase collaboration and our collective ability to respond to challenges and rise to opportunities. 
Learn more:
Advocacy Program
We are working hand in hand with our members to create a more equitable, resilient San Francisco Bay Area, from the ridgelines to the Bay shoreline. We advocate for social equity, healthy lands – including working lands, public and private lands, and urban and rural lands – and for equitable public access to nature.
Our 2021 Policy Platform outlines a broad and values-based policy framework to implement our coalition's mission to create a climate resilient, socially equitable Bay Area. This document guides the coalition in its policy and political leadership activities, as well as in its collaborations and partnerships. The 2021 Policy Platform was developed with leadership from our Policy Committee and Board of Directors, and input from our members. 
Our members, through our Policy Committee, actively participate in and contribute to TOGETHER Bay Area's Advocacy Program.  The Committee ensures that the Advocacy Program's goals and activities remain aligned with our mission and values. The Committee helps us advocate effectively towards our goals, and does so through values-driven, collaborative, inclusive participation of our coalition's members.
Rapid assessment of August fires
Mid-August lightning ignited fires across the San Francisco Bay Area. For several weeks, all Bay Area counties except San Francisco experienced fire, with burns in Napa, Santa Clara, Santa Cruz, San Mateo, Marin, Alameda, Contra Costa, Sonoma, and Solano counties. These fires include the CZU, SCU, and LNU Lightning Complex Fires, which, sadly, encompassed many rural residential and some urban areas. The lightning fires in the Bay Area have been fully contained, leaving approximately 565,000 acres burned.
Given the geographic scope and scale of the fires, a regional assessment was needed in order to provide context of the 2020 fire incidents for the many affected land-owning agencies, organizations, and individuals. See the data here. 
This assessment was done by Tom Robinson and Dr. Stu Weiss. Contact: [email protected]
Bay Area Green Stimulus Opportunities
We have a once-in-a-lifetime opportunity to reshape how we live together on this planet because of the public health and economic crises we're facing. Our members are part of the solution and this report makes that case.
Our findings reveal that with investment from the State, our members could create at least 10,500 new jobs with more than 620 projects throughout the 10 counties that would in turn directly or indirectly serve all 7.7 million residents. 
Factsheet on Wildfire and our members
We compiled facts about wildfire prevention, recovery and restoration. For example, 40 open space districts, resource conservation districts, park departments, land trusts, and water districts actively manage 28% of the Wildland-Urban Interface (WUI).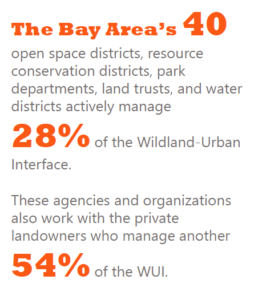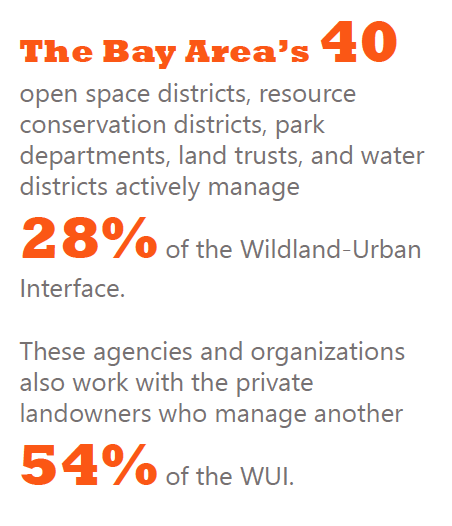 Conservation Lands Network
The Conservation Lands Network (CLN) is a regional conservation strategy for the San Francisco Bay Area, with a bold but achievable goal of conserving 50% of the Bay Area's ecosystems by 2050 and a science-based pathway for achieving it. It features decision making tools that support strategic investments in land protection and stewardship.
The CLN focuses on conservation in areas that represent the region's biodiversity and support ecological function across the nearly 5 million acres that comprise the 10 Bay Area counties. Updated in November 2019, CLN 2.0 equips the Bay Area to respond to climate change, connect landscapes, and connect upland and bayland conservation.
The CLN was launched in 2005 by the Bay Area Open Space Council and will continue with TOGETHER Bay Area in order to leverage data, tell stories, and make the case for resilient lands. 
Convene Program
Join us at an upcoming event or watch one of our past events. Participate in a community conversation. Connect, share, learn, coordinate.
Making Land Stewardship Relevant, Relatable and Inclusive, Feb 18
A Conversation with Yakuta Poonawalla, Community Programs Manager, Golden Gate National Parks Conservancy
Thursday, February 18, 9-10am
Zoom link will be shared with everyone who RSVPs
Free and open to anyone (regardless of if you attended December's session)
From Yakuta:
Last month, we convened the first part in this series to discuss ways we can create and build stewardship programs that meet our communities' needs and address issues of justice, equity, diversity and inclusion. Please join us for more as we dive deeper, and share our stories and challenges we face in our landscapes and communities. Together, we will explore ways we can be truly inclusive, relatable and relevant, and walk away with ideas and tools to create new ways of engaging communities in land stewardship, and inspiration to challenge the current stewardship narrative.
About Yakuta: Yakuta currently works for the Golden Gate National Parks Conservancy where she leads the San Francisco Park Stewardship Program and is developing creative programs that focus on inclusion, cultural relevance, mindfulness and healing. She is a member of the Diversity, Equity and Inclusion Committee at the Parks Conservancy, and is deeply involved in various initiatives across the park. When she is not working, you will find her on a trail – either examining a wildflower or in awe of a mountain.
Questions? Email Suzanne Beahrs at [email protected]
Spring Summit: May 11-14, 2021
We're planning to hold our Spring Summit on May 10-14, 2021. The event will be held online, will include opportunities for networking, and will build on the conversations and outputs of our Fall Forum in October 2020. Please save the date and stay tuned for more information.
Over 200 people joined us for our first Fall Forum on October 1-2, 2020. The distinguished speakers – some of whom are sharing what gives them hope in the video above – talked about park equity, wildfire, jobs for climate change, and so much more. Attendees participated in seven sessions and engaged with fellow attendees in a dynamic online platform. Two of the sessions were members-only working sessions where we discussed the coalition's intentions for equity and developing the 2021 policy platform.
One attendee described the event as: "Empathetic, Informational, Inspirational, New faces / new voices, Thought provoking, and Participatory."
Policy and Funding for Transformation
30 Minutes Together conversation with Sam Schuchat, Executive Officer of the Coastal Conservancy about what's happening locally, regionally, at the state level, and federally. With Annie Burke on October 22, 2020.
Policy Briefing about what's happening regionally, at the state-wide level, and a brief mention of what's happening federally. With Annie Burke and Shelana deSilva on October 15, 2020.
Leveraging regional data with the Conservation Lands Network
Getting the most out of the Conservation Lands Network, a powerful tool for decision-making and making the case for support. CLN Project Director Tom Robinson will demonstrate how to interpret the results of the CLN Explorer Tool's Conservation Portfolio Reports for land assessments, fundraising, and climate change implications. With Tom Robinson on October 14, 2020.
Regional conservation strategy and the Conservation Lands Network 2.0 webinar. With Tom Robinson and Stu Weiss in partnership with the CA Coastal Conservancy on March 26, 2020. 
30 Minutes Together conversations
30 Minutes Together conversation with Bob Neale about phases and emotions of wildfire recovery. Bob serves as Stewardship Director at Sonoma Land Trust and talked about his experience living through the Sonoma County fires of 2017, 2019 and 2020. With Annie Burke on September 3, 2020.
30 Minutes Together conservation with Vincent Medina and Louis Trevino about resilience, community, and how to nurture ourselves in tough times. Vincent is a member of the Muwekma Ohlone Tribe of the San Francisco Bay Area and Louis is a member of the Rumsen Ohlone community. With Annie Burke on May 14, 2020.
30 Minutes Together conversation with Laura Rodriguez about privilege, meaningful experiences in nature, and the work we all need to do. With Annie Burke on May 7, 2020.
Community Conversations 
Since March 2020 we have been facilitating regular conversations with communities of people around the issues they face and the opportunities of the moment. These are open, honest conversations with peers from around the region where we can listen, problem-solve, and support each other. 
Some of the Community Conversations we are facilitating include: 
Nonprofit Executive Directors. Contact Annie Burke for more information.
Senior leaders at public land management agencies. Contact Annie Burke for more information.
Regional public education campaign
Our members and partners need to communicate consistently and clearly to the general public about the risks of overcrowding the region's public lands (parks, trails, beaches, open spaces, etc). We do our part to keep parks and people safe and healthy. And we need to welcome new park users, remind people of the value of public lands, and encourage kindness.  
In collaboration with our members, we have created regional messaging, a website (BayAreaOutdoors.org), two short videos, social media assets, and a toolkit that our members and partners can use.