In 2021, the TOGETHER Bay Area team, in close partnership with our members, convened events, meetings, conferences, retreats, working groups, committees, briefings, and one in-person picnic lunch. We made space for conversations about multi-benefit projects, systemic racism, biodiversity, workforce development, access to parks and trails, equitable partnerships with communities, land stewardship, public health, and 30×30. We built relationships and influence in Sacramento, made progress on significant funding for the Coastal Conservancy, and fostered partnerships around the region and the state to advance shared policy goals. And we're just getting started. 
All of this is possible because of TOGETHER Bay Area members. This is a regional coalition for, by, and with its members of nonprofits, Tribes and Indigenous groups, and public agencies. In the challenges of the pandemic, systemic racism, and climate change, we are in this together. 
You're invited to look at the past year with us. Click on the links to watch/rewatch and read/reread some of the things we produced this year. And please share this with your colleagues. 
Convened a

policy briefing

with Marc Landgraf from Santa Clara Valley Open Space Authority, who serves on our policy committee, for TOGETHER members, Bay Area legislators, and legislative staff that highlighted our policy priorities for the year.
Started facilitating a monthly community conversation about data on the impacts of fire with data compilers around the region with Tom Robinson.
Started partnering with Bay Area organizations like Save the Bay, Bay Area Council, and Silicon Valley Leadership Group on bond advocacy.
Hosted a

webinar about the Cutting the Green Tape

initiative with Kellyx Nelson from San Mateo RCD and Sharon Farrell from Golden Gate National Parks Conservancy.
Hosted a repeat performance of Dr. Curtis Chan and Dr. Nooshin Razani about COVID, equitable access to parks, and the role of nature in health (our first webinar with Dr. Razani and Dr. Chan was held March 26, 2020).
Welcomed new Board members to their first meeting, and approved an updated employee handbook and more at our quarterly Board meeting.
Pivoted our policy priority from a state-wide bond measure to the state budget because of the large surplus
Launched our 30×30 working group to respond to and leverage CA's 30×30 initiative
We hosted 200+ attendees and coordinated 25 speakers at our virtual Spring Summit
Our dedicated Finance Committee met twice to draft FY21-22 workplan and budget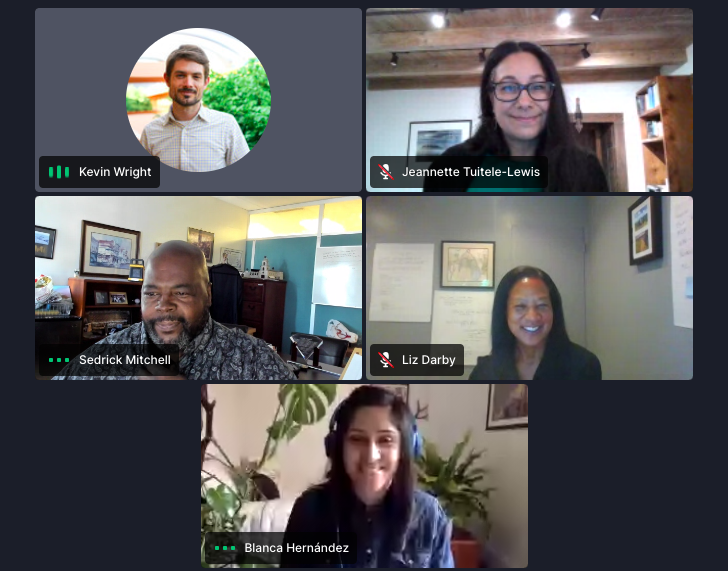 Speakers from the community partnership panel at the Spring Summit
Coordinated meetings with 12 Bay Area legislative staff and TOGETHER members to discuss our policy priorities. AND sent personalized emails to all 26 Bay Area caucus members with our budget requests.
Hosted an online retirement party for Sam Schuchat to thank him for his service and leadership, and to raise awareness of the value of State Coastal Conservancy for our mission and members.
We were notified that our three-year grant was approved from the State Coastal Conservancy to support a new project in partnership with the California Academy of Sciences to advance urban biodiversity conservation.
The Board approved our FY21-22 budget and workplan at our quarterly meeting.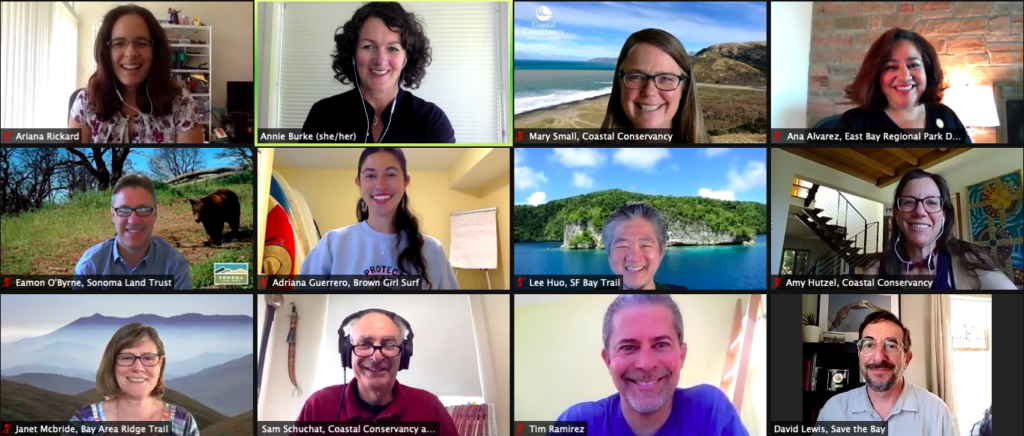 Guest speakers from around the region joined us to ask Sam Schuchat 20 questions for his 20 years of service at the State Coastal Conservancy.
Served as a leader in the advocacy for significant investment in the State Coastal Conservancy in the state's budget surplus.
Submitted our comment letter about CA's 30×30 initiative to the CA Natural Resources Agency.
Restarted regular community conversations with senior leaders of public land management agencies and nonprofit leaders.
Celebrated Governor Newsom's signature on two bills (SB 155 – Skinner and SB 170 – Skinner) that promise $350 million for the State Coastal Conservancy and hundreds of millions of dollars in other funding that support TOGETHER's mission and members.
Hosted our first Together Tuesday with a member showcase about biodiversity with California Invasive Plant Council, Grassroots Ecology, California Academy of Sciences, Paula Lane Action Network, and River Otter Ecology Project.
Hosted a webinar about implementing 30×30 in the Bay Area with Moira McEnespy from the Coastal Conservancy and Tom Robinson of the Conservation Lands Network.
At the quarterly Board meeting the Board approved revised bylaws that reflect the organization's new mission and governance structure.
Launched our annual membership campaign. Membership dues are what make TOGETHER Bay Area possible!
Hosted the second Together Tuesday with a member showcase about practicing equity with Justice Outside, Peninsula Open Space Trust, Brown Girl Surf, The Trust for Public Land, East Bay Regional Park District, Marin Agricultural Land Trust, and San Francisco Recreation and Park.
Our op-ed about 30×30 was published in the Bay Area News Group publications.
Hosted our second annual policy retreat to discuss 2022 policy priorities and the policy committee charter with the Board and policy committee.
Our first in person event! Co-hosted with Marin County Parks we enjoyed a picnic lunch with senior leaders of public land management agencies at Stafford Lake.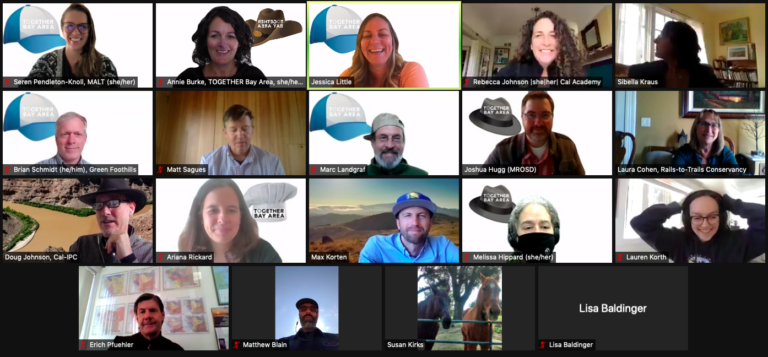 Board and Policy Committee members put on their TOGETHER Bay Area hats for the annual policy retreat in October.
Hosted the third and final Together Tuesday with a member showcase about Indigenous leadership with presentations from Muwekma Ohlone Tribe, Peninsula Open Space Trust, Amah Mutsun Land Trust, Solano Land Trust, and Save the Redwoods League.
Secured foundation funding to co-create and facilitate a new project, Indigenous Learning Forums, to build the capacity of Tribes and Indigenous-led organizations.
In partnership with State Coastal Conservancy, convened a community conversation about collecting and gathering permits for Indigenous People / Tribes on public lands.
The Board approved the 2022 Policy Priorities and revised Policy Committee Charter, both of which were developed by the Policy Committee and input was provided by members.
Thank you, TOGETHER members, for a collaborative and productive 2021. We look forward to seeing you in person in 2022!